Introducing Our New Rector!
Good Morning,
I am writing with some very good n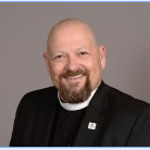 ews to share and am happy to announce that Father David Wyly (pictured, right) has accepted our call to serve as Rector of St. Stephen's. It is with great excitement that we welcome Father Wyly and his family to St. Stephen's and to Goldsboro!
As an introduction, Father Wyly has prepared this Youtube video (CLICK HERE TO VIEW) so that you can learn a bit about him and about his family. Attached below is a letter from Father Wyly, as well.
Father Wyly will begin his ministry at St. Stephen's on September 1, 2021. We extend a very warm welcome to the Wyly Family!
Sincerely,
Lori Allen, Senior Warden
Click here to read a Letter of Introduction from Father Wyly