Introducing Our New Rector!
We have some very good n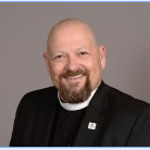 ews to share and are happy to announce that Father David Wyly (pictured, right) has accepted our call to serve as Rector of St. Stephen's. It is with great excitement that we welcome Father Wyly and his family to St. Stephen's and to Goldsboro!
As an introduction, Father Wyly has prepared this Youtube video (CLICK HERE TO VIEW) so that you can learn a bit about him and about his family. Attached below is a letter from Father Wyly, as well.
Father Wyly will begin his ministry at St. Stephen's on September 1, 2021. We extend a very warm welcome to the Wyly Family!
Sincerely,
Lori Allen, Senior Warden
Click here to read a Letter of Introduction from Father Wyly
Welcome to St. Stephen's!
We have returned to in-church worship on Sundays at 10:30 a.m. and are very glad to see you back in person! 
For information on Weekly Worship opportunities,

follow this link.
---
In addition:
At St. Stephen's, we will celebrate Morning Prayer throughout the week and we offer several other online Faith Formation opportunities:
Morning Prayer with the Rev. Alan Neale
Alan Neale will be saying Morning Prayer Monday-Thursday at 9:15 a.m. via Zoom (please contact Alan Neale for the Zoom link). If you can, please have a Bible and/or Prayer Book with you.
Book Group — The group is on a summer hiatus. Will not resume until September. Have questions? Please contact: Xena Markine-Morrison, Director of Christian Formation, at xmorrison@ststephenschurch.com. 

Adult Formation Class using The Wired Word (Contact

Alan Neale

)
Tuesday Men's Morning Prayer — The Tuesday Morning Men's Prayer group has returned to a hybrid format with some of us meeting at the Church on Tuesday mornings at 8:00 a.m. and some of us staying virtual on Zoom to share Morning Prayer. Those of us at the church are following the distancing and masked rules. Our group includes Buzz Baker in Arkansas and Jim Smith in Washington. If you would like to join us Bob Cagle.
Thursday Bible Study Class The Thursday Bible Study will continue through the end of July and then will take a break at least through the entire month of August.(Contact Xena Morrison)
Virtual Get-Togethers for Youth (Contact Xena Morrison)
For more information about our online faith formation opportunities, please read our weekly newsletter
HERE

.
---
St. Stephen's Episcopal Church has worshipped on the corner of North James and Mulberry Streets in Goldsboro since 1857—in the same building!  We would love to show you our historic building, but more than that, we'd love to have you worship with us.
Our Sunday services of Holy Eucharist (sometimes called Holy Communion, the Mass, or the Lord's Supper) are at 8:00 a.m. and 10:30 a.m. (the 8:00 a.m. service is temporarily suspended due to COVID-19. The 10:30 a.m. is limited capacity and by reservation). All, including children, are welcome.  We also celebrate the Eucharist and offer anointing and prayers for healing at 5:30 p.m. on Wednesdays (this service is temporarily streamed live on Facebook and not in person).  Christian formation (Sunday School) for all ages is offered at 9:30 a.m. between September and June. We hope to see you soon!
St. Stephen's Episcopal Church
200 N. James Street
Goldsboro, NC 27530
Telephone 919-734-4263
Email address: admin@ststephenschurch.com
Church Office Hours:
Mondays–Thursdays 9:00 a.m.–1:00 p.m.
Fridays 9:00 a.m.–Noon
In the search for our new rector, our first task was to write the Search Collect, our parish prayer which will be a part of our liturgy for the duration of the search. Here is the Collect:
Almighty God, who knows our hearts and minds. You have blessed our Church with generations of faithful servant leaders. Guide our Search Committee, Vestry and Parish Family as we call for our new Rector. Grace us with patience, trust, and hope through this time of discovery. We pray that we may call a faithful Rector who will guide us in our spiritual journey. Through Jesus Christ our Lord.  Amen.
Upcoming Events
12/25| Midnight
Christmas Day
All things . . . that you want men to do to you, you also must do to them.
But the meek will possess the earth, and they will find exquisite delight in the abundance of peace.
At that time the lame will leap like the deer,+
And the tongue of the speechless will shout for joy.
All are welcome to St. Stephen's Episcopal Church. To listen to a Bible-based sermon every Sunday, come join us in our services.